Okiden CplusC and nami™ ramp up aging-tech "Mimamori" collaboration — from Okinawa to Japan nationwide
Published on Monday October 30th – 2023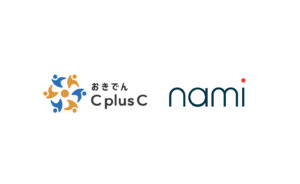 Okiden CplusC Corporation ("CplusC") and nami™ ("nami") would like to announce the formalization of their collaboration to revolutionize elderly care from Okinawa to the whole of Japan.
Background to the collaboration
nami was founded in 2021 by the entrepreneurs who created WiZ, a smart lighting brand and ecosystem that was acquired by Signify, the lighting leader (formerly known as PHILIPS in this industry). WiZ is the world's first smart lighting platform embedded with Wi-Fi sensing technology.
nami has developed a series of disruptive IoT devices with multi-sensing software layers including its pioneering WiFi sensors and WIDAR sensors. In just a short period of time, nami has established long term partnerships with global companies (Internet Service Providers and home security companies).
nami is strongly involved in IoT standards and compliance. Jérôme Leroy, its Chief Innovation Officer, is also the chair of the wireless signal based ambient sensing Workgroup at Matter, which is part of the Connectivity Standards Alliance (CSA) (600+ technology companies participate in CSA, including Big Tech players such as Apple, Google, and Amazon).
Since May 2021, CplusC, a joint venture established by OEPC, INSPiRE Investment Corporation, and its affiliate Japan Integration Corporation, has conducted a large-scale social demonstration project with 14 local governments in Okinawa (covering more than 70% of elderly residents in the territory), by leveraging Origin AI ("Origin") WiFi sensing technology. Origin is a digital sensing innovator, and nami partner, currently leading the work for a digital sensing standard at the Institute of Electrical and Electronic Engineers (IEEE) — a leading technical standards body.
This has led to a Memorandum of Understanding being executed between nami and CplusC in April 2023, outlining the setting up of the Mimamori Social System for the Elderly ("Mimamori for the Elderly") in Okinawa and eventually through Japan. This 'Aging in Place' program uses nami technology to detect motion and sleep patterns within the homes of elderly, without the need for intrusive microphones or cameras.
So far, nami and CplusC have completed a successful pilot of nami's WiFi sensors (to enable motion detection) and WIDAR sensors (to enable sleep detection), from April to July 2023. This success has led them to further formalize the collaboration in October 2023.
Through this collaboration, CplusC, by working together with nami, will provide "Mimamori for the Elderly" to local governments in Okinawa and eventually throughout Japan. This program detects motion and monitorssleep without the use of intrusive microphones, cameras, or wearables. The goal is to alleviate social issues,such as the increased burden of care faced by local governments and families in Japan, which has the world's fastest aging population. By providing this service, CplusC will deliver "Energy of Heart", which contributes vigour and happiness to people's daily life by connecting 'Yui' bonds between the elderly and their families.
About Mimamori for the Elderly
Through the "Mimamori for the Elderly", CplusC partners with nami to use digital sensing technology to achieve the following objectives:
World's Most Advanced Aging/Health Tech from Japan
Japan's population is aging at a faster rate than in any other country. This places an increased responsibility on local governments to look after that aging population, and places an extra economic and time burden on families.
In Okinawa, the number of single-person elderly households is increasing at a pace higher than the national average, and there are rapidly increasing concerns about the burden on local governments, such as the need to deal with solitary deaths, as well as the burden on families who are living apart from their parents.
In order to solve these issues, CplusC has concluded alliance agreements with 14 local governements in Okinawa under a large-scale social demonstration project subsidized by the Japan Government Cabinet Office and Okinawa Prefecture since 2021, achieving success to realize "Mimamori for Elderly" using the world's most advanced sensing AI technologies.
Contributing to the Reduction of Burden on Local Governments (B2G)
According to the "White Paper on Aging 2023" published by the Japan Government Cabinet Office, the number of households with elderly person(s) is 25.81 million, accounting for 49.7% of all households (51.91 million). This means the elderly reside in approximately half of all households, increasing the burden of care on local governments forsolitary deaths and elderly wellbeing is rapidly increasing. A survey of Okinawa's local governments conducted by CplusC has revealed that existing measures are insufficient to deal with this situation.
"Mimamori for Elderly" helps to reduce this burden on local governments by providing the world's most advanced AI sensing devices, respecting people's privacy by doing without intrusive cameras, microphones, or wearables. This program has been extended to all the elderly households living in the area of each local government.
Providing Peace of Mind for Families Living Apart from Elderly Parents (B2C)
The above "White Paper on Aging 2023" suggests that three-generation households which accounted for the largest proportion of all households in 1980 (50.1%) dramatically decreased to 9.3% in 2021. With the majority of families living apart from their elderly parents, the concerns and anxieties of families are increasing.
"Mimamori for Elderly" visualizes the motion and sleep patterns of the elderly 24/365, while fully respecting theprivacy of occupants. By monitoring these essential Activities of Daily Living (ADL) and building data points around important behavioral patterns non-intrusively, ADL analytics bring further peace of mind for families. This makes it possible to grasp the situation in a timely manner even if families live apart from their elderly parents or family members. This, in turn, deepens the 'Yui' bonds between the elderly and their families.
About CplusC
A joint venture between OEPC, INSPiRE Investment and Japan Integration, using the world's most advanced sensing technologies, has succeeded in a large-scale social demonstration of "Mimamori for the Elderly" covering more than 70% of elderly residents in Okinawa, under an alliance agreement with 14 local governments in Okinawa. The company is now moving forward for commercialization with the aim of delivering "Energy of Heart" from Okinawa to all over Japan, which contributes to a daily life full of vigour and happinessby connecting 'Yui' bonds between the elderly and their families.
About nami
nami builds software-based sensing infrastructure for responsive homes and intelligent buildings, solving problems for players in security, safety, PropTech automation, energy optimization, ageTech and wellness. nami runs a cross-sensing platform, combining a mesh network of RF+AI human activity sensing enablers, and clusters of environment sensors.
It is nami's ambition to deliver non line of sight AND line of sight sensing, with rapid setup, accurate data capture and robust topologies. In July 2023, INSPiRE Mutualistic Symbiosis Fund 1 Investment Limited Partnership acquired shares issued by nami.